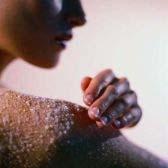 Here are some natural exfoliants for your skin care regimen. Some are more "abrasive" than others so minimize their use to 2-3x per week. These are great when mixed with Raw honey.
Ground Oatmeal
Cornstarch
Clays (Bentonite , French Green, Dead Sea, Moroccan, Kaolin,etc)
Sea Salt
Epsom Salt
Spearmint Leafs
Lavender Leafs
Orange Peel Powder
Kelp Granules
Brown Sugar
Almond Meal
Flaxseed Meal
Acidic Juices ( Grapefruit, Lemon, Apple)
Dairy Products ( Milk, Yogurt, Sour Cream)
Enjoy!